Tigers Realm Coal Ltd closing in on low cost coking coal production in 2016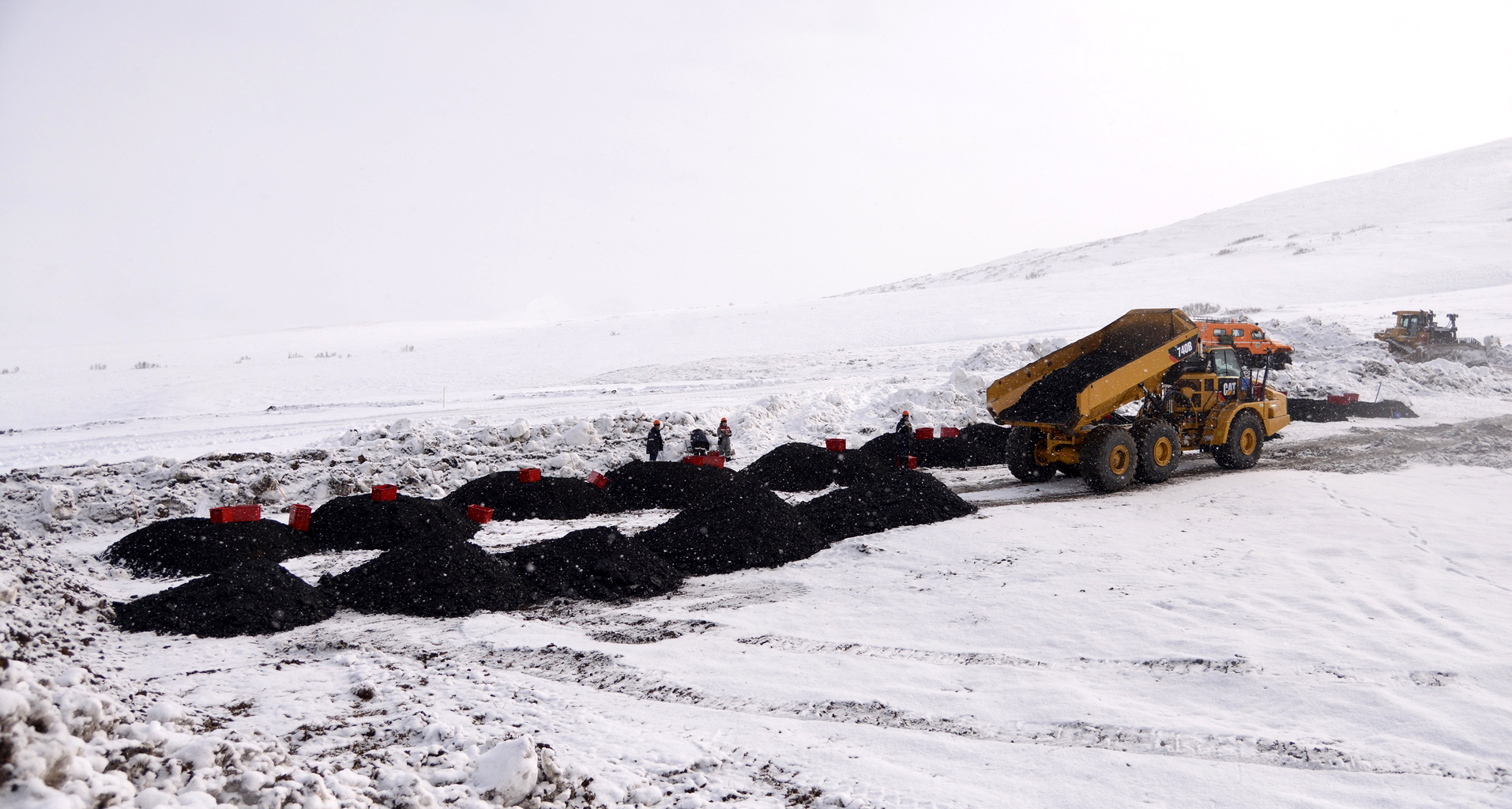 Tigers Realm Coal Ltd (ASX:TIG) aims to be producing coal from the Amaam Coking Coal Project located in eastern Russia by late Q4 2016.
Production is set to commence from Phase One of Project F, where the company have recently completed a feasibility study.
The capital cost of Phase One is estimated to be US$6.6 million and site operating costs are estimated to be US$25 per tonne free on board (FOB).
Following the completion of the successful feasibility study, the company launched a A$23.3 million rights issue.
Funds raised will be mainly used for financing the development of initial coal mine production at Project F utilising existing infrastructure and mining fleet already mobilised to site.
Background
Tigers Realm aims to become a profitable coking coal producer by advancing the Amaam Coking Coal Project through resource delineation, feasibility studies and mine development.
Two tenements, Amaam and Amaam North, together comprise the Amaam Coking Coal Project. The two tenements are located within 35 kilometres of the Bering Sea coast in Chukotka Autonomous Okrug, far eastern Russia.
Tigers Realm has 80% ownership of Amaam and has recently signed a Heads of Agreement which will see its 80% ownership of Amaam North increase to 100%.
In addition, the company owns 100% of the Beringovsky Port and Coal Terminal, located 35 kilometres to the north east of the Amaam North tenement.
Amaam Coking Coal Project
Amaam and Amaam North have combined JORC compliant coal resources of 632 million tonnes with the majority of these resources being of coking coal quality.
Project F within Amaam North has 110.6 million tonnes of coal resources, 16.1 million tonnes of which have already been classified as Product (Marketable) Reserves under JORC.
The recently completed Project F feasibility study supports development of a 20-year, 1 million tonne per annum low cost mining operation with potential to more than double output with open pit expansions and underground mining.
Project F
Tigers Realm recently completed an update to its November 2014 Feasibility Study for Project F located within Amaam North, based on a substantial increase in Coal resources defined since then. The key outcomes of the update to the feasibility study for Project F completed in April 2016 are as follows:
A life-of-mine (LOM) average waste to product stripping ratio of 4.9:1;
LOM marketable production of 18.9 million tonnes, comprising 13.4 million tonnes of semi-hard coking coal and 5.5 million tonnes of thermal coal;
A 140% increase in marketable coal reserves;
Initial capital for 1.0 million tonnes per annum production rate estimated at US$99 million;
LOM average operating cost estimated to be US$41 per tonne FOB including state royalties; and
Potential for a low cost start up to production through Project F Phase One.
Project F: Phase One
During the June quarter, the board approved the Project F Phase One feasibility study aimed at moving the project forward at a low initial capital cost of US$6.6 million.
Phase One of Project F's development leverages off the mine fleet and infrastructure already at site, and targets near surface coal seams to produce unwashed thermal and coking coal products.
Site operating costs for Phase One are estimated to be US$25 per tonne FOB.
The Phase One feasibility study estimates that approximately 3.8 million tonnes of sales can be achieved at a stripping ratio less than 3:1.
Production is expected to ramp up to a rate of 600,000 tonnes over 2 years.
Coal mining is to commence late in Q4 2016, with first sales in 2017.
Increasing ownership to 100%
At the end of June, Tiger's Realm signed two binding heads of agreements (HOAs) with its joint venture partner B.S. Chukchi Investments Limited.
The implementation of this HOA over Amaam North will increase the company's ownership to 100% from 80%, and reduce annual joint venture payments, compared to current royalties, on Amaam North (including Project F) coal revenues, including lower payments during the Project F start-up phase. This is subject to successfully funding Phase One capital requirement.
The new conditions described in the HOAs are to improve Amaam North Project's value and fundability, and simplify ongoing corporate and approval processes for the Amaam Project.
Infrastructure
Tigers Realm owns 100% of the Beringovsky Port and Coal Terminal located 35 kilometres to the north east of the Amaam North deposit and the proposed Project F mine.
The port is presently fully operational and under the terms of the sales agreement, the port will continue to ship up to 70,000 tonnes of coal annually for the nearby Nagornaya mine and volumes of general cargo.
The Beringovsky Port has historically handled over 700,000 tonnes of coal per year from the Nagornaya mine and the port will be progressively refurbished and expanded over time to at least 1 million tonnes per annum capacity.
The company will utilise its existing CAT mining fleet, which including a 70 tonne excavator, five 40 tonne trucks, two D10N bulldozers, a grader and other ancillary equipment.
Capital raising details
The company recently launched a 1 for 1 non‐renounceable rights issue to raise up to A$23.3 million.
Shares are priced at A$0.026 and the offer is underwritten by three of the company's substantial shareholders.
The offer was successfully completed on 26 July, 2016.
The company raised A$15.43 million and will place the remaining balance of A$7.85 million to the underwriters pending appropriate approvals.
Proceeds raised under the offer will be used for but not limited to:
Commencing Phase 1 of development and construction of Project F;
General corporate purposes and working capital; and
Undertaking of compliance works to ensure continued tenure of exploration and mining licences.
Analysis
The near term development of Phase One of Project F will be an important milestone and value catalyst for Tigers Realm as they look to become a significant supplier of coking coal.
Given the cost advantages, Project F has the potential to be one of the world's lowest cost coking coal producers.
Thanks to a low stripping ratio compared to competitors, short overland transport, and company owned infrastructure, site operating costs are expected to be between US$39 and US$45 per tonne FOB.
With hard coking coal prices ranging between US$84 and US$117 per tonne, this project has significant opportunity to generate strong cash flows for Tigers Realm.
Project F will be a low strip ratio open cut mine with a short road link to company owned infrastructure and coal port.
The Project F coal products have suitable properties for nearby Asian markets. Positive characteristics include very low sulphur and phosphorus content.
The quality is similar to some well-known and utilised Queensland semi-hard coking coal produced from mines including Blackwater, Dawson, Cook and Poitrel.
One of the many advantages that Project F has is the substantial tonnage of low ash coal close to the surface that can be cheaply mined and sold unwashed.
This has enabled the company to pursue Phase One of the Project F development with a low capital investment.
This starter project will allow export sales of unwashed thermal and coking coal at a rate of up to 600,000 tonnes per annum.
While the company's core focus currently is on Project F at Amaam North, the large scale coking coal deposit, Amaam, remains an important medium to long term value driver for Tigers Realm.
Proactive Investors Australia is the market leader in producing news, articles and research reports on ASX emerging companies with distribution in Australia, UK, North America and Hong Kong / China.
Disclaimer
You understand and agree that no content published constitutes a recommendation that any particular security, portfolio of securities, transaction, or investment strategy is suitable or advisable for any specific person. You further understand that none of the information providers or their affiliates will advise you personally concerning the nature, potential advisability, value or suitability of any particular security, portfolio of securities, transaction, investment strategy, or other matter.
You understand that the Site may contain opinions from time to time with regard to securities mentioned in other products, including company related products and that those opinions may be different from those obtained by using another product related to the Company. You understand and agree that contributors may write about securities in which they or their firms have a position, and that they may trade such securities for their own account. In cases where the position is held at the time of publication and such position is known to the Company, appropriate disclosure is made.
However, you understand and agree that at the time of any transaction that you make, one or more contributors may have a position in the securities written about. You understand that price and other data is supplied by sources believed to be reliable, that the calculations herein are made using such data, and that neither such data nor such calculations are guaranteed by these sources, the Company, the information providers or any other person or entity, and may not be complete or accurate.
From time to time, reference may be made in our marketing materials to prior articles and opinions we have published. These references may be selective, may reference only a portion of an article or recommendation, and are likely not to be current. As markets change continuously, previously published information and data may not be current and should not be relied upon. The contributors make every effort to ensure that the information and material contained in this report is accurate and correct and has been obtained from reliable sources. However, no representation is made about the accuracy or completeness of the information and material and it should not be relied upon as a substitute for the exercise of independent judgment. Proactive Investors does not accept any liability, including negligence, for any loss or damage arising from the use of, or reliance on, the material contained in this report. There are general risks associated with any investment in securities. Investors should be aware that these risks might result in loss of income and capital invested.
WARNING: No recipients should rely on any recommendation (whether express or implied) contained in this document without obtaining specific advice from their advisers. All investors should therefore consider the appropriateness, in light of their own objectives, financial situation and/or needs, before acting on the advice.
DISCLOSURE: The Company, its directors, associates, employees or representatives may not effect a transaction upon its or their own account in the investments referred to in this report or any related investment until the expiry of 24 hours after the report has been published.